Foltos Tonsorial Parlor was founded within the pleasant community of Batavia, Illinois, sixty years ago, by Craig Foltos' father, Joe Foltos. The shop retains the ambiance of yesteryear and is a favorite stop of local residents. Batavia is known for its quaint shops, beautiful library, Fermi National Accelerator Laboratory and many parks including the famous Fabyan Park with its authentic Dutch windmill. The town makes a great destination for a day trip or weekend excursion. Make our salon and beauty boutique, your first stop.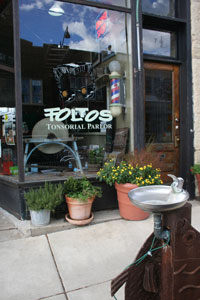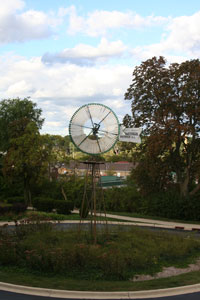 Devotees come from near and far. Men appreciate the "no fuss" approach, when it comes to getting a great new look. Women, teens, and even toddlers enjoy coming here. Foltos' stylists enjoy the friendly atmosphere, as much as the valued clients do.
Craig built a unique drinking fountain (pictured opposite) just outside the shop and it has been considered to be something of a little landmark, along Wilson Street's walkway. You'll find the salon on the East Side, just past the Wilson Street Bridge which overlooks the beautiful Fox River. The shop is right off the Prairie Path Bike Trail.
Batavia's new River Street District is just around the corner and offers a respite from daily activities. The River District's plaza offers a social atmosphere where visitors and residents can gather for superb dining with friends (after their hair cuts, of course).
Foltos Tonsorial Parlor's proprietor, Craig Foltos, takes an active lead within the community. He has been active within Batavia's Chamber of Commerce.

Come and visit Craig and his great team of stylists. Bring the kids! Bring a friend! You'll feel like you've stepped back to a time when shop keepers had time for a joke and a chat with their customers. You'll love how your hair looks!